---
Once Clean Energy Challenge finalists become former participants, CET designates their company as a "portfolio company". We track these companies closely and provide consulting services throughout the year to promote growth.
Many of our portfolio companies continue to acheive along the spectrum of business acheivements, but a few in particular have had great news to share in the last few months - Intelligent Generation LLC, 75F, GoElectric, and Navitas.
---
1. Intelligent generaition LLC
Jay Marhoefer and Intellgent Generation got some great ink in a Forbes blog post last week. Intelligent Generation are finalists from the 1st Challenge, and have since continued to steadily build the business and reimagine the future of energy distribution. Congrats Jay!
2. 75F
Deepinder Singh and 75F took home the overall prize at the Minnesota Cup startup competition last week, and was awarded $50,000 in grand prize money. 75F competed at last year's Challenge, and made a lasting impression. Great way to prove cleantech startups can compete in broader categories beyond energy. Way to go!
3. GoElectric
Another finalist from last year, GoElectric recently announced they've been accepted into the Hawaii Energy Accelerator Program. Founder Lisa Laughner won the ComEd Female Entrepreneurship award last year, and we're so excited she's contining to grow the company through the Hawaii program.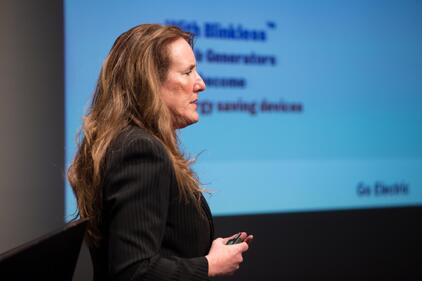 4. Navitas
First, congratulations to Mil Ovan on taking over as CEO for Navitas Systems! And more congratulations are in order on the announcment of their first SBIR Phase 2 gran win! To quote Mil, "That's our first Phase 2 win and we're very excited about this milestone for a company that's only 1.5 years young!"