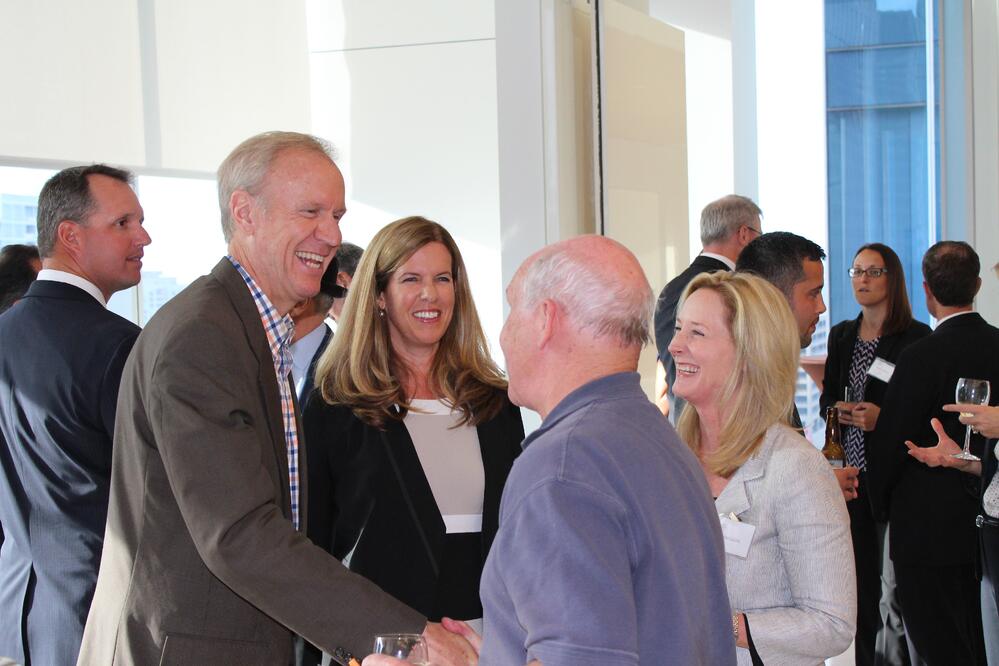 On September 8, 2014, Clean Energy Trust hosted a business leader roundtable on clean energy with Bruce Rauner. Pcitured from left to right: Jim Petersen of AEP, Governor-elect Bruce Rauner, Amy Francetic of Clean Energy Trust, Phil O'Connor of PROActive Strategies, Sarah Galioto of BP America, Ben Hernandez of NuMat Technologies and Sarah Wochos of Environmental Law & Policy Center.
---
I wanted to post a quick clean energy business update following this week's elections. Guided by our mission to fuel clean energy innovation, Clean Energy Trust works to accelerate the development of businesses and technologies that improve the ways we create, conserve and use energy. Part of this work includes advocating for a policy environment that supports clean energy businesses and industry growth. While our business and technology acceleration work extends across the Midwest, we are in a unique position to impact policy in our home state of Illinois.
Clean Energy Trust would like to congratulate the winners of Tuesday's elections, including Illinois Governor-elect Bruce Rauner. In September, Clean Energy Trust hosted Governor-elect Rauner at a roundtable discussion with clean energy leaders. At the event, he expressed his commitment to working with the clean energy community to shape smart policy that advances Illinois' leadership in new energy technologies, including renewables and efficiency. Clean energy is a bipartisan issue, and we welcome the opportunity to work with Governor-elect Rauner and all Illinois policymakers towards this goal.
The support of clean energy entrepreneurs and industry professionals is critical in this effort. From time to time, we plan to reach out with opportunities for you to make your voice heard on issues that impact our industry. Thanks for standing with us.
Clean energy businesses are high-growth job creators that are contributing to a more safe, secure and affordable energy system. Illinois' clean energy firms employ nearly 100,000 workers, a figure projected to grow by 9% this year. We will continue to support these businesses – your businesses – through our funding and accelerator programs and by advocating for a business climate that supports clean energy industry growth and innovation.
Clean Energy Trust's Director of Programs, Patrick Whitty, leads our public advocacy efforts, and he will be posting future updates about this work – don't hesitate to contact him at patrick@cleanenergytrust.org to get involved. Thanks as always for your commitment to building our clean energy future. -Amy